APPLICATION AREAS

Orthopaedic and custom footwear
FotoScan represents a major revolution in the field of orthopaedic and custom shoemaking. More...
Custom insoles/orthotics
The Plantar scanner captures accurate 3D data for the rapid design of custom orthotics. More...
Wound Measurement
FotoScan 3D scanners are ideal for accurate measurement and monitoring of wounds and other serious skin conditions. More...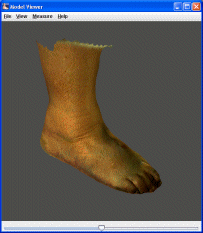 "The most effective foot scanning solution on the market"


OSC - Orthopädie Schuh Center
FotoScan 3D
- a complete 3D digital casting and measurement solution
FotoScan 3D is a unique scanning technology that delivers precise, full colour 3D digital casts of any part of the human body.


FotoScan 3D scanners have a proven track record in a wide range of application areas including custom orthopaedic footwear, orthotics and wound measurement.






LATEST NEWS




20 September 2011





Air Impression Box to replace the conventional foam box


Precision 3D has released a fully re-useable device that delivers exactly the same type of plantar scan as a foam box. The Air Impression Box lets you scan the foot directly, adjusting the pressure to get a perfect 3D digital cast of the plantar surface. For further details please see our factsheet.










DOWNLOADS





Foot Scanner factsheet

Plantar Scanner factsheet

Air Impression Box factsheet

Portable Plantar Scanner factsheet

FotoScan 3D Handheld Factsheet

Foot Measurement

Sample 3D Scans