FotoScan 3D Technology

FotoScan 3D uses advanced stereophotogrammetry technology to deliver precise, full colour 3D digital casts in a wide range of standard file formats.

FotoScan 3D is ideal for many scanning applications, but is particularly suited to scanning parts of the human body. It's photographic technology is safe and reliable, and it can handle any type of rounded, organic shape.

A key feature of FotoScan 3D is its unique ability to

create full colour 3D models

. This provides massively more information than laser-based systems, and makes the work of the orthotic manufacturer easier and more accurate.

The two photos adjacent illustrate the power of the FotoScan 3D system. The FotoScan 3D colour image clearly illustrates the beginning of a pressure sore developing on the plantar surface, allowing the shoe or orthotic manufacturer to make the correct adapation. But the standard, laser-based image of the same foot shows nothing.

FotoScan 3D is undoubtedly the most powerful scanning technology for the orthotic industry and is already used successfully in clinics throughout the world.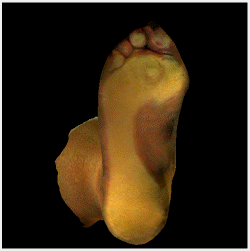 FotoScan 3D data (top) clearly shows the beginnings of a pressure sore. No evidence shown in the conventional 3D laser scan (below).